Introduction to ACH and Settlement Period
Actum Processing, a third-party processor, solely works with merchants processing transactions (debits and/or credits) in the ACH or Automated Clearing House network. ACH, which has been in existence since the 1970s, does not happen in real-time. However, processing speeds have increased by leaps and bounds in the past 50 years.
Typically, an ACH payment takes a couple of days to "complete" because of the verification processing occurring when a transaction "clears."
In other words, there is a process in which transactions are submitted through the ACH network for it to successfully "clear" or complete the ACH cycle. ACH payments are governed by the National Automated Clearing House Association, NACHA, before processing them altogether.
The following flowchart illustrates how ACH debit transactions are ideally processed.
ACH Processing Cycle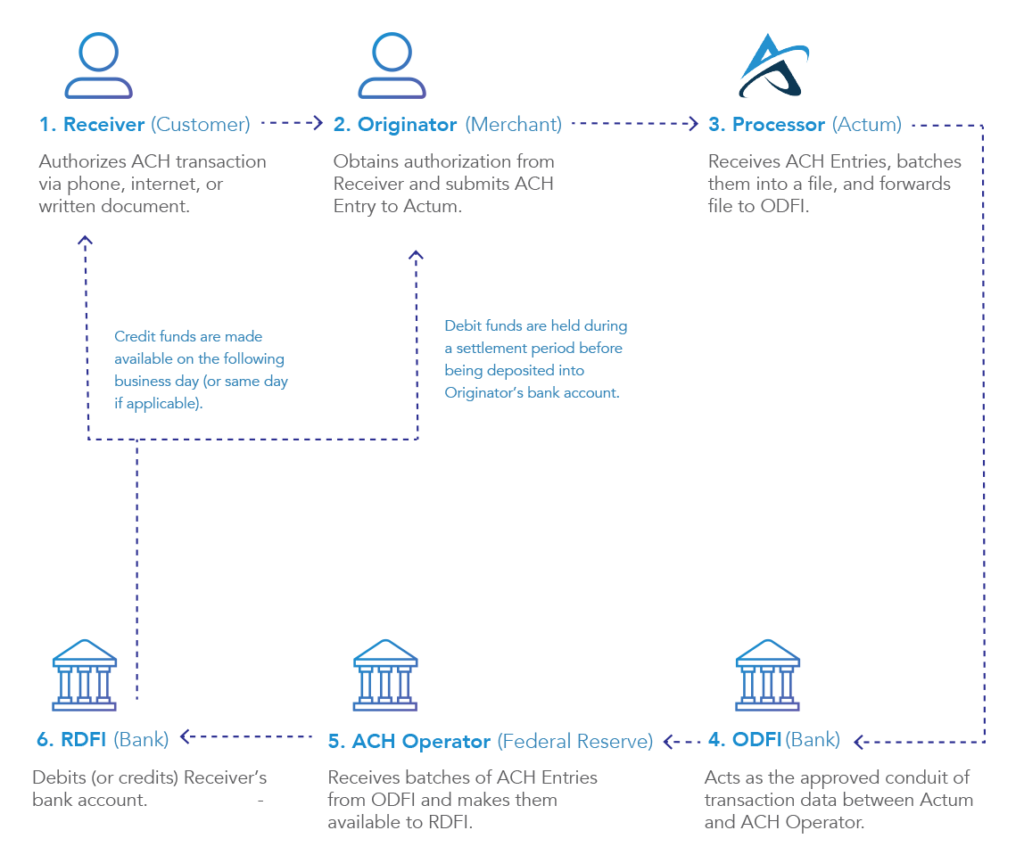 An account's ACH settlement time or period serves as the predetermined number of banking days which processors retain an ACH transaction before depositing into a merchant's bank account. Settlement periods do not apply to ACH Credits as these post to a client's (Receiver's) bank account by 8:30 a.m. CT or 7 p.m. CT on the same day.
Like paper checks, ACH transactions can "bounce" or return due to a variety of reasons. Specifically, such returns include insufficient funds, invalid or closed bank account, etc. Unlike paper checks, funds for an ACH transaction clear between banks automatically before the Receiving Depository Financial Institution (RDFI, a client's bank) verifies the client's account or account balance.

RDFIs can reverse those funds automatically by submitting an ACH Return Code to the ODFI or Originating Depository Financial Institution. NACHA Rules stipulate that RDFIs must return debit transactions within two business days. While 99% of returns are received according to the NACHA rules, these may come a day or two day later.
Payment processors and banks typically enforce a settlement period before releasing the funds into a merchant's bank account. Typically, the period can be three to five business days. Our Risk and Compliance team evaluates requests for accelerated payouts on a case-by-case basis. In fact, the Risk and Compliance team evaluates a business' past performance and financial strength. A Business Relationship Manager can assist with accelerated payout requests with ACH and settlement period.