Using and Understanding our Payout Report
Altogether, our Payout Report serves as the central hub of information pertaining to your processing fees associated with your merchant account transactions. If there's a report that breaks down a merchant's overall activity, then this report provides an overall perspective. In this case, this entry walks merchants through on using and understanding our this report.
Navigating and Using our Payout Report
1. Hover your cursor over the Reporting menu option and select Payout Report.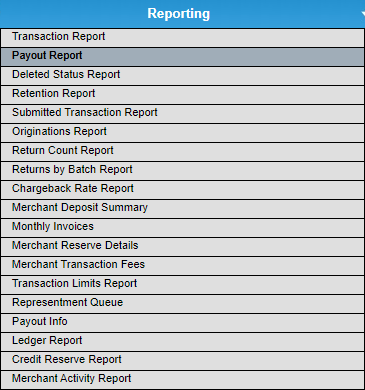 2. Once the Payout Report page populates, you can choose different time options to view. In fact, you can view Month (current month), Last Month, YTD (year-to-date), or a custom time of your choice. For the custom time, if you wish to view, for instance, a prior month in the year, choose the desired prior month and the month following it (i.e. April 2020 for start date, May 2020 for end date).
3. Next, the specific Payout Report of your desired time period populates as follows:


4. Within this Payout Report, please note that the PreAuth Sales represents the dollar amount of a submitted debit transaction batch in a given date. Meanwhile, Settled Sales represents a batch that has settled in the settlement time agreed upon (please refer to the Exhibit B for your merchant account).


Processing Fee will consist of fees per your Exhibit B (per debit transaction fee, discount rate, if applicable, etc.). A breakdown of the processing fees is available in our Merchant Transaction Fees report. Late Returns will typically be a chargeback filed by a customer/receiver. Specific information about the chargeback can be found in our Return Count Report.
5. Lastly, the payout amount represents the anticipated payout for deposit or fee charged against an upcoming settlement. If there is a negative carryover amount from Processing Fees but the settlement dollar amount is greater than the negative carryover dollar amount, you will see a positive payout. Otherwise, if the negative carryover amount is greater than the settlement dollar amount, the negative carryover amount continues to carryover.